Welcome to Johnshaven.com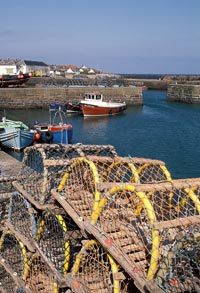 This website is dedicated to the remarkable village of Johnshaven and the surrounding area of Benholm.
Set on the picturesque coastal plains of the Mearns around 7 miles north of Montrose just off the A92, the charming fishing village of Johnshaven attracts visitors all year round.
Home of the nationally acclaimed Fish Festival, Johnshaven is the perfect location from which to launch your holiday adventures in the North East of Scotland.
THIS YEAR'S FISH FESTIVAL WILL BE HELD ON AUGUST 09, from 11am - 4pm
The Johnshaven and Benholm area is rich in maritime heritage and continues to support a successful and internationally recognised shellfish industry.
Can you help?
I am trying to establish the residents of the Burn of Benholm from the 18th century to the present day. Some of the names of people who I am reasonably certain lived there were Blackie, Morice, Dallas, Cadenhead, Duthie, Findlay, Cromar, Watson, Stewart and Lindsay.
It would help me greatly if any present day members of those families or indeed of any others who lived there would get in touch with me.
To contact me, please email at clark.simpson@btinternet.com or email info@johnshaven.com